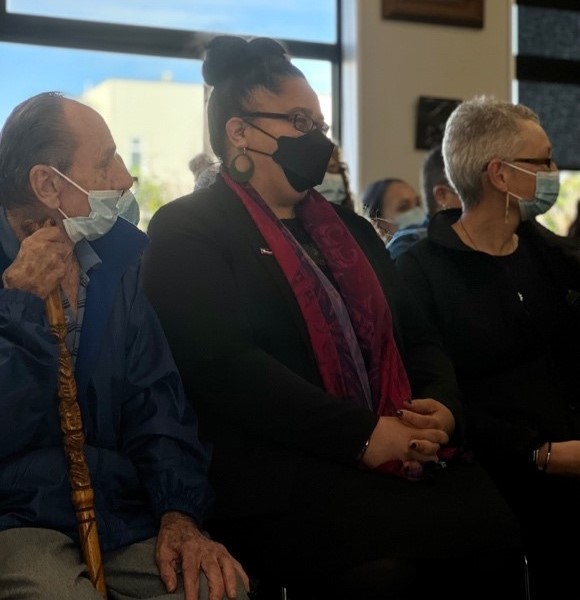 Powhiri for New Manukura Hauora
27 May 2022
Mai ia Mahurangi ki ngā Kurī-a-Whārei, nei te Tara o te Ika a Maui e tū ake nei.
Takoto ai te marino horahia i waho rā,
Haere mai ki Hauraki he aute tē āwhea...
In April 2022, Te Korowai Hauora o Hauraki Chairperson Harry Mikaere, announced the appointment of Tammy Dehar (Ngāti Tamaterā, Ngāti Maru) as Manukura Hauora. It was finally on Tuesday 24 of Haratua (May), where Te Korowai Hauora o Hauraki whānui had the pleasure of formally welcoming Tammy, supported by her whānau and wider whānau whānui, into her role with Te Korowai Hauora o Hauraki.
During the pōwhiri, Te Korowai Hauora o Hauraki Board Member Korohere Ngapo acknowledged the occasion as a celebration "He kaupapa hurō, harikoa tēnei nā hei whakakōtahi i a tātou nā te mea kua hoki tonu mai tēnei Amokura ki tōnā kainga".
Korohere then acknowledged the tremendous leadership of Riana Manuel, as our previous Manukura Hauora who has gone on to lead the Māori Health Authority, and expressed great thanks to Taima Campbell, as the interim Manukura Hauora, for her continuing to guide the kaupapa. In closing he then welcomed our new Manukura Hauora, Tammy Dehar, home.
"Ka titiro ake ki ēnei wahine, mana wahine nei, e arahi ana i a tātou Māori mā, nā reira me mihia rātou."
The pōwhiri highlighted all of Tammy's achievements and celebrated the exciting pathway ahead not only in her new role as Manukura Hauora, but for all here in Hauraki.