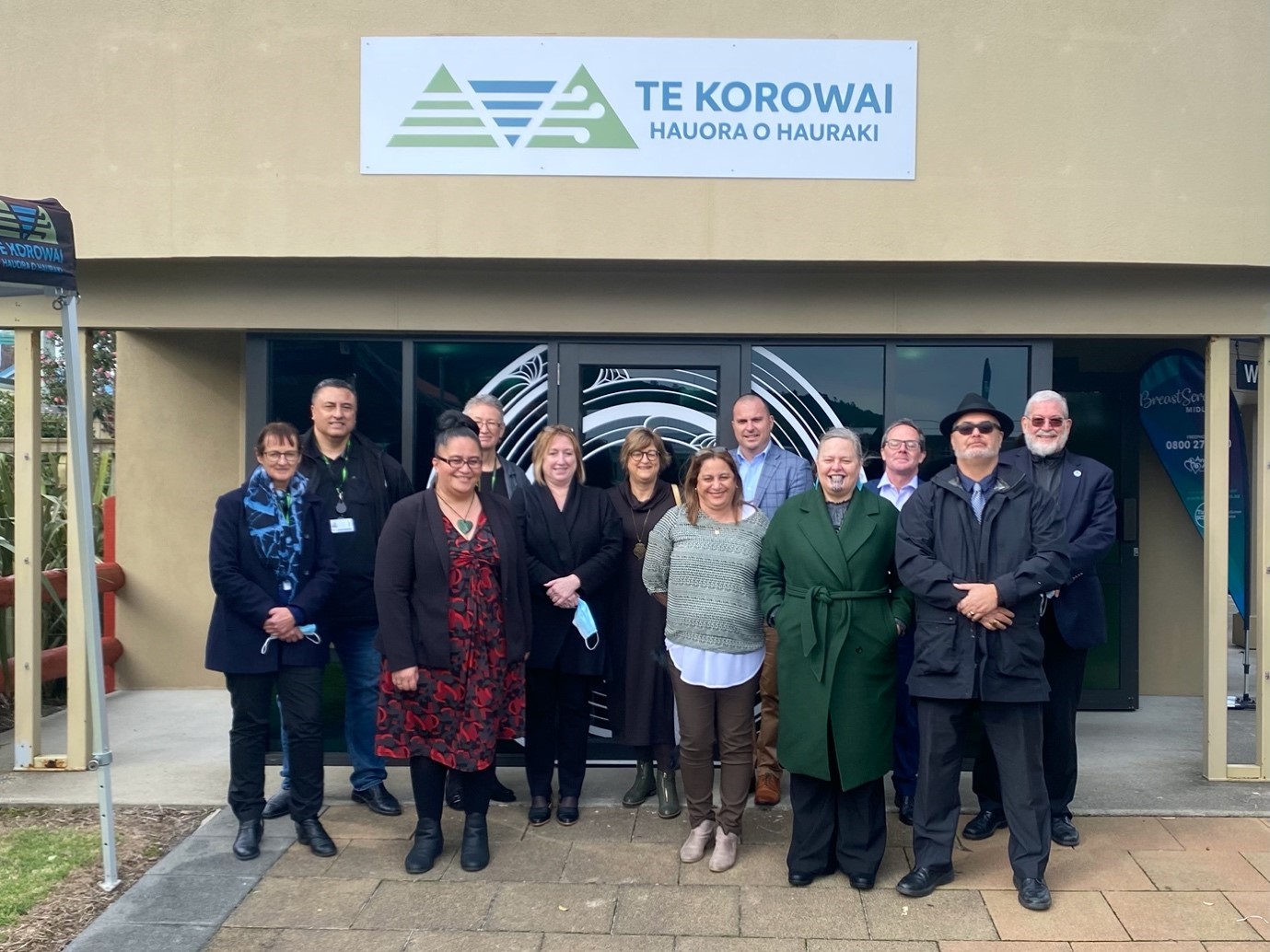 Pito Hauora Launches for Everyone in Hauraki Rohe
20 Jun 2022
Uakina atu rā taku waka i te one ki Te Whitianga-nui-a-Kupe,
ka tere atu rā ki ngā au o Tikapa moana – Marutūāhu tāngata, Marutūāhu kowhao rau.
Ka ū taku waka ki Kāwhia Moana, Kāwhia tangata e.
Toia mai rā te kete rukuruku a Whakaotirangi.
Ko Mōkau ki runga, ko Tāmaki ki raro, Ko Mangatoatoa ki waenganui.
Pare Hauraki, Pare Waikato, Te Kaokaoroa-o-Pātetere.
E ngā mana e ngā reo, anei rā ko Pito Hauora!
A new health service, Pito Hauora launches for everyone in the Hauraki rohe.
This new preventative and health screening hub has been introduced by Te Korowai Hauora o Hauraki and the Waikato District Health Board to help create greater access to hauora services closer to home for whānau in the Thames–Coromandel-Hauraki rohe.
Pito Hauora launched on Monday 20 June 2022 with karakia and whakatau led by Dr Korohere Ngapo. The development of this service reflects the wawata (aspirations) of the Hauraki Locality.
Pito Hauora is a health and wellbeing hub for everyone in the rohe and the aim is to reduce barriers by providing access to health screening and other intervention services closer to home. As the only Iwi Health Provider within Pare Hauraki and the largest provider of holistic whānau-centred services within the rohe, Te Korowai Hauora o Hauraki deliver hauora services in a way that is uniquely Māori yet inclusive of all peoples who choose to engage with their services- including the newly launched Pito Hauora hub.
The name Pito Hauora was gifted to the service by Dr Korohere Ngapo and symbolises the potential of growth and in this context, refers to the promise of a healthier pathway.
Chief executive Māori Health Authority, Riana Manuel was there to celebrate the launch as she recognised this health gap and was instrumental in bringing the services together.
"This is a great milestone for Māori health as this is the first mammography service in New Zealand to be incorporated into a Māori health provider and it is also the first combination of a dental health facility and a mammography service in a Māori health provider." said Manuel.
Chief executive of Te Puna Hauora Matua o Hauraki (HPHO), Taima Campbell said the opening of the Pito Hauora service is another step towards transformation in the health sector and the establishment of localities, a key part of the health system change.
"Under the leadership of Hauraki iwi, local providers, community agencies and our community, I am hopeful we can achieve the aspirations of our whānau and our vision for wellbeing for Hauraki." said Campbell.
Manukura Hauora o Te Korowai Hauora o Hauraki, Tammy Dehar says "Our moemoeā (vision) of 'Mō Tātou o Hauraki - Hauraki as a Healthy nation' and our kaupapa to continually strive for excellence in the way we provide our services to and with our people is underpinned by our mātāpono (values)."
The Breast Screening Midland service was one of the first to join with a breast screening machine being installed at the centre in May this year. The service has performed mammograms on 400 women in their first four weeks since starting on 16 May. They are hoping to encourage other women from surrounding areas to utilise their service in the near future so they don't have to travel so far.
Waikato DHB chief executive Kevin Snee says the model Pito Hauora is an important partnership between the DHB and Te Korowai Hauora o Hauraki for the Hauraki community and is an excellent example of the new Health New Zealand/Hauora Aotearoa plan aimed at delivering health that is equitable and accessible for all.
"We are excited at what the locality prototype can achieve and are committed to being part of this work. Screening services save lives through early detection and treatment." said Snee.
Pito Hauora will be staffed with a mix of Te Korowai Hauora o Hauraki and DHB staff with the focus being on local faces working with local people to support them to get the healthcare they need. This will be open Monday to Friday from 8:30am – 5:00pm. Operating hours may vary for each service.
Pito Hauora
Services available (However each service has different age requirements) :
Breast Screening: Wāhine aged 45 – 69 are encouraged to get a free mammogram every 2 years. This service is provided in addition to the mobile screening units that travel around Thames, Coromandel and the Hauraki areas.
Cervical Screening: Wāhine who are 25 and over are encouraged to smear their mea
FLU, MMR & COVID Vaccinations available to all our whānau who are due.
Dental service: This is being offered alongside the mobile dental units that travel around to all kura around the region. Whilst the Thames site is still under construction, there is a mobile dental unit on site as well. To book a dental appointment for your tamariki please call 0800 825 583
Get connected and get protected against preventable diseases. To book an appointment or for more information free phone 0508 8356 76.
Photo: Launch of Pito Hauora – Te Korowai Hauora o Hauraki, Thames.
L-R: Julia Carr : Chief Medical Officer, Primary Care at Waikato DHB, Riki Nia Nia : Executive Director, Māori, Equity & Health Improvement at Waikato District Health Board, Tammy Dehar : Manukura Hauora Te Korowai Hauora o Hauraki, Taima Campbell : CE Te Puna Hauora Matua o Hauraki (HPHO), Chris Lowry: Executive Director Hospital & Community Services, Maree Pierce: Manager Breast Screen Aotearoa, Lu-ana Ngatai: Operations Manager – Screening and Sexual Health Services, Luke Wilson: Operations Manager Hospital and Community Dental Services, Riana Manuel : CEO Māori Health Authority, Mike Brosnan: Head of Department Hospital and Community Dental Services, Dr Korohere Ngapo: Te Korowai Hauora o Hauraki Board Member, John McEnteer: CEO Hauraki Māori Trust Board