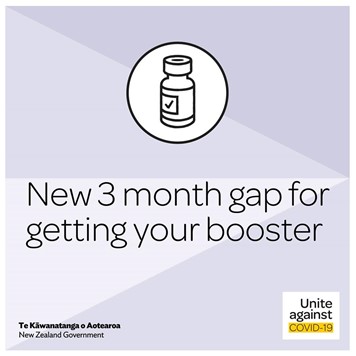 COVID-19 Booster Interval Reduced
06 Feb 2022
On Wednesday 2 February government announced that the time between when your second dose (of Pfizer COVID-19 vaccine) and when you can get your booster jab will now be reduced from 4 months to 3 months.
The new interval will be implemented from Friday 4 February and applies to all eligible people aged 18 years and over (including health compromised individuals).
This significant increase in the percentage of New Zealanders who can now get their booster dose in February, will enable us to rapidly lift our collective immunity as we respond to the current Omicron outbreak.
Did you know, having the COVID-19 Booster will lower the chances of getting very sick and/or being hospitalised for COVID-19 - including Omicron. Efforts are focussed on ensuring boosters are available to people at higher risk either of getting Omicron or becoming seriously ill from the virus, including border and healthcare workers, older Māori and Pacific people, people in aged residential care facilities, and people with underlying health conditions.
To book an appointment for a booster dose at:
Online - BookMyVaccine.nz
Call Te Korowai Hauora o Hauraki on 0508 835 676 or Healthline on 0800 28 29 26.

Aotearoa remains in the early stages of an Omicron outbreak and cases will continue to grow. The response aims to slow down the spread and protect people who are at highest risk from getting really sick.
The country has been in the RED setting of the COVID-19 Protection Framework for just over a week. Good progress is being made to increase vaccine protection - in the last week there has been a 24% increase in people getting boosted and 67% of eligible people are have now received their booster jab.